Breast Augmentation
Breast augmentation, also known as augmentation mammoplasty and breast enlargement, is a surgical procedure to enhance the size and shape of a woman's breasts using breast implants. Board-certified plastic surgeon Dr. David Morwood offers breast augmentation for patients in Monterey who are unhappy with the natural size of their breasts and would like to enhance their size and overall appearance.
Reasons for Undergoing Breast Augmentation
There are a number of reasons women choose to undergo breast augmentation. Some women may want to significantly increase the size of their breasts by using large breast implants. Others may be interested in more subtle breast enlargement using small breast implants to better balance the proportions of their figure. Common reasons for undergoing breast augmentation include:
To enhance the body contour of a woman who, for personal reasons, feels her breast size is too small.
To restore breast volume lost due to weight loss or following pregnancy
To achieve better symmetry when breasts are moderately disproportionate in size and shape
To improve the shape of breasts that are sagging or have lost firmness, often used with a breast lift procedure
To provide the foundation of a breast contour when a breast has been removed or disfigured by surgery to treat breast cancer
To improve breast appearance or create the appearance of a breast that is missing or disfigured due to trauma, heredity, or congenital abnormalities
Breast augmentation with lift is a popular option for women with sagging breasts that want to enhance the size and shape of their breasts with breast implants. A breast lift without implants is the best option for women who want to improve breast shape without increasing their size.
View Before & After Photos
*Actual Patient
Disclaimer: there is no guarantee of specific results and the results can vary.
The Different Types of Breast Implants
There is a wide array of different breast implant types to choose from that allow for much more personalized results. There are saline breast implants, silicone breast implants, and gummy bear implants. There are also other options like textured breast implants and high-profile breast implants. Implant size can also vary from 400cc breast implants and 450cc breast implants to larger sizes like 600cc breast implants and 800cc breast implants.
The Breast Augmentation Procedure
Procedure: Enhance the size of breasts using saline or silicone implants.
Length: 1 to 2 hours.
Anesthesia: Local with sedation, or general.
In/Outpatient: Usually outpatient.
Side Effects: Temporary soreness, swelling, change in nipple sensation, bruising. Breast sensitive to stimulation for a few weeks.
Risks: Lack of implant permanence — surgical removal or replacement of the implants may be required to treat problems, including deflation; the formation of scar tissue around the implant (capsular contracture), which may cause the breast to feel tight or hard; bleeding or infection. Increase or decrease in sensitivity of nipples or breast skin, occasionally permanent. Mammography requires a special technique. (Note: Some women have reported symptoms similar to those of immune disorders. Ask your doctor about these and other FDA concerns)
Recovery: Back to work: in a few days. Physical contact with breasts: 3 to 4 weeks. Fading of scars: several months to a year or more.
Duration of Results: Variable. Implants may require removal or replacement.
http://www.plasticsurgery.org/patients_consumers/procedures/AugmentationMammoplasty.cfm
"
MY BREASTS ARE PERFECT FOR MY FIGURE
"I contacted Dr Morwood earlier this year after one of my clients referred me to him. He performed a breast augmentation on me about five months ago and the results were great. My breasts are perfect for my figure, they don't look too large and they're symmetrical. I'm surprised that he has any reviews that are less than five stars. I found him to be personable and professional. I was extremely nervous the day of my surgery, but everything went smoothly, he even called that night to check on how I was doing. I would highly recommend him and his staff was helpful as well."
Lola K.
Vectra 3D Imaging
What if you could look into the future and see the results of your plastic surgery or cosmetic body-sculpting treatment before it even happens? With the VECTRA 3-D imaging system, you can now take a 3-dimensional sneak peek at yourself and see how you might appear after the procedure. Check it out and Sign up for a consultation!
Breast Augmentation Cost
The cost of a breast augmentation varies, because it is a highly individualized surgery tailored for each patient. The overall price may include anesthesia, operating room facilities, new breast implants, and other related expenses. Additional tests and imaging may also add to your total. Contact us for additional information.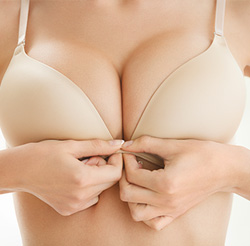 SCHEDULE A CONSULTATION WITH DR. MORWOOD
A breast augmentation can be an excellent way to achieve the breast volume and shape you have always desired. By utilizing silicone or saline implants, Dr. Morwood is a board-certified plastic surgeon who can help enhance the size, shape, and symmetry of your breasts.
Please call our office in Monterey at (831) 646-8661 to set up a consultation for your breast augmentation.
Related Blog Posts
Related Procedures Natural Neck Lift
For Men & Women
Disclaimer: there is no guarantee of specific results and the results can vary.